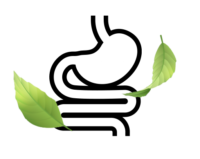 The intestine is our second brain.
Regular exercise and a balanced diet help keep you healthy.
What is the intestine?
The intestine is a complex apparatus that is not only limited to processing food. It houses the intestinal microbiome, or thousands of living microorganisms that help us carry out numerous vital functions ranging from digestion to regulation of the immune system.


Bacterial flora.
Gastrointestinal disorders can also be related to the emotional sphere and include: digestive difficulties, diarrhoea, constipation, abdominal pain, swelling, inflammation, and food intolerances.
Foods for the stomach and intestines
Foods that help your digestive system

Asparagus

Quince

Fennel

Olive oil

Oats

Cottage cheese
Our tips
Discover our product selection.
NUTRIVA AG SPRAYè uno spray a base di argento colloidale e acido ialuronico formulato per il benessere e l'igiene del cavo orale. L'argento colloidale deterge e protegge efficacemente le mucose della bocca, contribuendo alla corretta igiene orale quotidiana. L'acido ialuronico contenuto svolge inoltre un'importante azione idratante della mucosa della bocca. 50 ml format.